Pitch Perfect Review January 25, 2013
Director: Jason Moore                                                              Cast: Anna Kendrick, Rebel Wilson, Anna Camp, Brittany Snow, Skylar Astin
Running time: 112 minutes                                           Certificate: 12A                                                                          Release: 21st December
You would be forgiven for assuming Pitch Perfect aspires to be Glee: The Motion Picture. Surprisingly though, the film's ambitions are more in line with the charmingly cheesetastic Bring it On and satirical teen classic Mean Girls. The film is a loose adaptation of a behind the scenes book based on the competitive nature of the collegiate world of a cappella. Kay Cannon of 30 Rock/New Girl fame scribes whilst first time feature director Jason Moore directs this sharp though predictable story.
Here's the pitch: Beca (Anna Kendrick), at the request of her academic father, is forced to offset her dream of DJing in LA in order to attend Barton College. After months of resisting freshman conformity, recluse Beca relents and joins the all female college a cappella group The Barton Bellas, led by uptight Aubrey (Anna Camp) and sidekick Chloe (Brittany Snow). Due to Aubrey's rule of no fraternizing with their rivals—the all male 'rockstars of a cappella' the Treblemakers—Beca is faced with a tough choice when she meets the charming Treblemaker Jesse (Skylar Astin). What follows is a fairly standard underdog story involving the national a capella finals and Beca's struggle to adapt and assert herself within the group.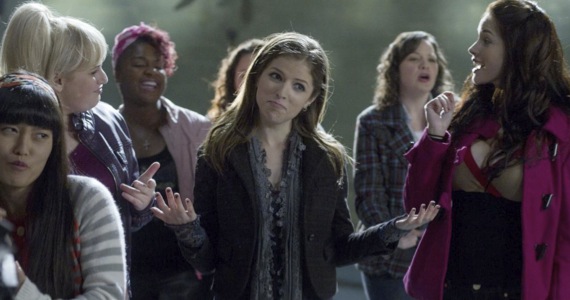 Part of Pitch Perfect's charm is the quality of the ensemble cast, who infuse energy into otherwise clichéd characters. Kendrick strays from the straight arrow characters we've grown accustomed to in Up in the Air and 50/50, making Beca's transition from reclusive 'alt girl' to Bella all the more effective. Rebel Wilson's self named Fat Amy ("so twig bitches like you don't call me it behind my back") steals every scene she appears in, and the superb commentating duo of John Michael Higgins and Elizabeth Banks (who also produces) add some humour to the performance scenes that would otherwise have been distinctly bland.
It's not all sunshine though, Pitch Perfect does hit some bum notes. A possible love triangle is weirdly hinted at between Beca, Jesse and a college DJ, but is never developed. Hana Mae Lee's whispering 'Lilly' schtick is a little overused, though when executed correctly is met with raucous laughter.
In spite of the above issues there really isn't much to complain about. The music for the most part is quite enjoyable. Whether it's Beca's DJing mash-ups or the a capella duels, it never gets too self indulgent, although I'd prefer not to listen to Ace of Base's 'I saw the sign' again anytime soon. Sure it's formulaic, but who cares as long as you're laughing? Canon isn't concerned with developing clichéd characters, she wants to break your funny bone and she succeeds; most of the time.
0